How To Prepare Your CBD Cranberry Tea
Step 1
Add teabag to cup
Step 2
Pour boiled water into cup
Step 3
Allow to infuse for 4-6 minutes
Step 4
Add your choice of milk or honey (optional)
Overview
Plump cranberries & velvet raspberries gives this infusion a rich yet refreshing taste, with a sweet juicy finish. A delightful taste of summer boosted with an array of vitamins promoting natural collagen production & immune support. Paired with premium CBD for a calming touch.
Number of Bags: 15 or 30
CBD Per Bag: 20mg
Total CBD Per Container: 300mg or 600mg
Our CBD Tea Promise
We promise to give you a CBD experience like no other. Our infusions contain natural herbs, adaptogens and vitamins to truly help you feel on top of the world or we'll give you your money back! Carefully crafted to contain approximately 20mg of Broad Spectrum CBD per tea bag. Using high quality CBD we can guarantee the maximum amount of bioavailable cannabinoids in your brew every time. 
Why Eden's Gate CBD Tea's?
We pride ourselves in being a leading supplier of quality CBD herbal teas. Our formulations are made using the very best herbal tea ingredients from the most trusted suppliers all over the world. We think the great flavour of teas should still be just as tasty with CBD. From Us To You - In Every Brew!
Health Benefits

Hair Skin & Nail Growth

Regulated Hormones

Stress Relief

Anti-aging

Improved immune system
Fruit Teas are high in vitamins and antioxidants which is amazing for cleansing the body of toxins and keeping the immune system strong. The origin of fruity tea can be traced back to ancient China. Fruit teas are most well known for Helping maintain and improve Hair, Skin and Nails. The vitamins in these fruits can help fight acne, hydrate skin, and protect your skin's natural barrier.
Hibiscus is not only known for its Health Benefits it's also known for bringing good fortune into your home and is considered as lucky plants for homes in India. Reaping with health benefits, hibiscus can help improve low blood pressure, weight loss and supporting a healthy digestive system.

Rosehip, one of various species of rose plant, is known to have anti-inflammatory properties. Experts suggest that rosehip may be effective in relieving some symptoms associated with rheumatoid arthritis and osteoarthritis, and it may help reduce signs of ageing and lower blood pressure and cholesterol.

Hemp Leaf Contains Vital Nutrients that are beneficial to the heart, brain, digestion and boosting your immune system. Hemp Leaf use archaeologically dates back to the Neolithic Age in China, It may also be one of the earliest plants to have been cultivated.

Vitamin C is an important nutrient to have in your diet, it's an antioxidant that helps protect your cells against the effects of free radicals. It can strengthen your body's natural defences and reduce tiredness and fatigue. Your body doesn't actually produce Vitamin C so it's important to make sure you're getting enough.

Vitamin E is a fat-soluble vitamin that helps support healthy skin and eyes, strengthening the body's immune system to fight against illness and infection. Also having antioxidant properties that are important to the health of your blood, brain and skin

Vitamin B12 is an essential nutrient that helps nourish the brain and nervous system, also helping with the arrangement of healthy red blood cells, helping fight mood swings, loss of focus, anxiety and depression. Vitamin B12 is also essential for the health of your skin, hair and nails

Vitamin B6 also known as pyridoxine is essential for brain development and for keeping the nervous system and immune system healthy it also helps to support the neurons transmitting messages around the brain.

Zinc has many anti-inflammatory properties and is known to help treat skin problems like acne, rosacea, eczemas and ulcers also having a high importance for hair growth, a lack of zinc could lead to hair loss 

Folic Acid also known as vitamin B9 is the synthetic form of folate that is very important in red blood cell formation and for healthy cell growth and function, Women who are pregnant or become pregnant may take folic acid to prevent birth defects such as spina bifida.

L-lysine is the form of lysine your body can utilise and is used as a building block for protein in your body These proteins help produce hormones, immune cells and enzymes. Lysine is an essential amino acid. Your body cannot produce lysine, so it's important to include it in your diet.

Ingredients
Hibiscus, Rosehip, Apple, Cranberry, Raspberry, Peach, Hemp Leaf, Vitamin C, Vitamin B6, Vitamin E, VitaminB12, L-lysine, Zinc, Folic Acid
How to Use
Step 1. Put a single bag in a cup of freshly boiled water
Step 2. Infuse for 3-6 minutes depending on your taste preference.
Step 3. Ensure your brew has cooled down before taking a sip. 
Step 4. Take a sip and enjoy!
Information
Number of Bags: 15
CBD Per Bag: 20mg
Total CBD Per Container: 300mg
Number of Bags: 30
CBD Per Bag: 20mg
Total CBD Per Container: 600mg
 Store in cool, dry place away from sunlight. Keep out of reach of children. Only to be used by ages 18+. Do not use if pregnant or breastfeeding. For oral use only. Speak to your doctor or pharmacist before taking if you are on any medication or have a medical condition.
Sustainability
Triple Lab Tested For Potency & Purity

Clean Ingredients

Unbleached Tea Bags

GMO Free

100% Kosher 

Biodegradable Tea bags

100% recyclable packaging
We are proud to be in partnership with "Trees for the future" charity, Helping plant thousands of trees and improving the lives of African communities with every purchase, trees for the futures mission is to improve livelihoods of impoverished farmers by revitalising degraded lands. They are currently working with thousands of farming families across nine countries in sub-Saharan Africa, helping grow vibrant regional economies, thriving food systems, and a healthier planet.
Delivery
£3.99 for Royal Mail Tracked Delivery
Free Delivery For Orders Over £50
Please Allow 2-3 Working days for all Deliveries
Meet The Tea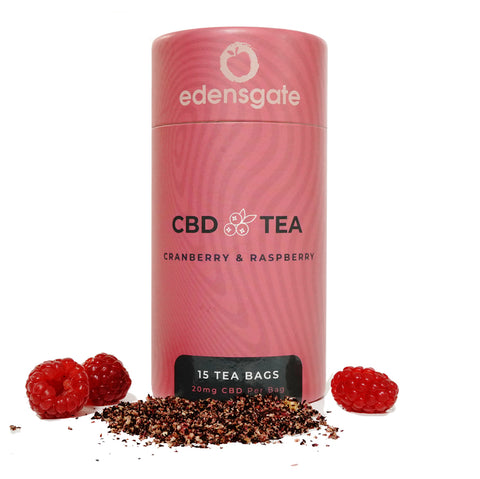 Cranberry CBD tea combines the tart, refreshing taste of cranberries with the potential health benefits of CBD. This unique blend offers a caffeine-free, soothing experience that may aid in relaxation, stress reduction, and support overall well-being. Additionally, cranberries bring their antioxidant properties to the table, and are paired with vitamins and adaptogens for long term benefits!
FAQs
Tell me more about Cranberry & Raspberry
The concept of infusing fruits, herbs, and botanicals to create flavourful and aromatic beverages has ancient origins. Many cultures worldwide have a history of using local fruits and herbs to make herbal infusions and tisanes for medicinal and culinary purposes. In recent decades, fruit teas have gained even more popularity as consumers seek healthier and caffeine- free alternatives to traditional teas and sugary beverages. Combined with CBD these fruit teas have never been so healthy!
What benefits does this tea offer?
Cranberry raspberry CBD tea combines the potential health benefits of cranberries and raspberries with the therapeutic effects of CBD. Some of the potential benefits may include; Pain relief, Anti-inflammatory, lower stress and anxiety, urinary tract health, improved sleep and immune system support. This tea is also packed with vitamins including L-lysine, Zinc, Vitamin E, Vitamin B12 and folic acid and excellent blend for promoting hair, skin and nail growth.
When Should I Have This Tea?
Whenever your body or mind calls for a well deserved pause, or a moment to switch off from the everyday chaos. However to reap the long term benefits of this infusion, we recommend having at least 1 tea bag per day in the morning, as a break at work, or as a night time brew as part of your bedtime ritual.
What antioxidants does this contain?
The Cranberry & Raspberry CBD Tea blend contains a vast amount of antioxidants. Some of these include; Proanthocyanidins, Quercetin, Anthocyanins, Ellagic Acid, Curcumin, Quercetin and more! These antioxidants are known for anti-inflammatory, protecting cells from oxidative damage, supporting the immune system and inducing calming/soothing effects.
Add your favourite milk or honey if desired for taste or an added wellness kick.